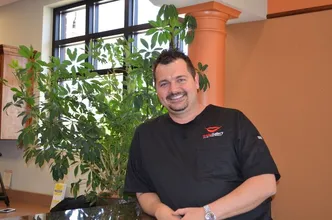 Dr. Chad Williams graduated from the University of Louisville Dental School in 2001 . Prior to studying at Louisville School of Dentistry, he attended College at Morehead State University, where he obtained a Bachelor's Degree in Chemistry. Since he began practicing dentistry, Dr. Williams has remained up-to-date on many continuing educational classes, ensuring that his patients receive the most comprehensive and advanced dental care. In addition to obtaining additional training, Dr. Williams also invests in the highest dental technology for his patients' comfort and care. By staying current with the latest technology and advances in dentistry, Dr. Williams is committed to understanding the needs and desires of each patient. He takes great pride in providing patients the best of what dentistry has to offer.
Dr. Williams is known for using an advanced approach in treating each patient based on their individual needs. His expertise stays on the cutting-edge of technology, ensuring patients receive the best available care with the highest technology available. Treating those with severe dental reconstruction needs, as well as, those looking to achieve a "Hollywood Smile," Dr. Williams has made it his personal commitment to perfect the art of dentistry.
When Dr. Williams is not creating beautiful smiles and helping restore dental health, he enjoys spending time with his wife Betty and his two boys, Jonathan and Jackson. Dr. Williams is also actively involved with Rotary International, as well as, serves on the City of Lebanon Planning Commission. His hobbies include gardening, canning, golfing, hunting, fishing, cycling, woodworking, and reading a good book.